Peptic ulcer is a common disease found within our society. There are approximately 40% Indonesian who suffers peptic ulcer, according to World Health Organization in 2012. Still, many of us haven't put much attention to this dangerous disease.


You have a peptic ulcer if you get open sores in the lining of your stomach or the upper part of the small intestine. Ulcer forms when digestive acids damage the walls of the stomach or small intestine. If the mucus layer gets too thin or your stomach makes too much acid, your gut will feel it.


You may have no symptoms, as nearly three-quarters of people with peptic ulcer don't have symptoms. Or you may feel discomfort, like a burning stomach pain.


There are two types of peptic ulcer disease, which are gastric ulcer (occurs on the inside of your stomach and duodenal ulcer (occurs at the top end of the small intestine). Peptic ulcer is almost always caused by one of the following:
Helicobacter pylori (H. pylori). This is the bacteria which as many as half of us has carried. Most people infected with H. pylori don't get ulcer. But in others, it can raise the amount of acid, break down the protective mucus layer, and irritate the digestive tract.
Long-term use of aspirin and nonsteroidal anti-inflammatory drugs (NSAIDs), including ibuprofen, and naproxen. These drugs block your body from making a chemical that helps protect the inner walls of your stomach and small intestine from stomach acid.

A number of symptoms are associated with peptic ulcer. The severity of the symptoms depends on the severity of the ulcer. You'll most likely feel a burning pain or discomfort between your belly button and breastbone. Typically, the pain will be more intense when your stomach is empty, and it can last for a few minutes to several hours.


Other common signs and symptoms may include:
Dull pain in the stomach
Lack of appetite due to pain
Weight loss
Nausea or vomiting
Bloating
Burping or acid reflux
Anemia, whose symptoms can include tiredness, shortness of breath, or paler skin
Vomiting or vomiting blood, which may appear red or black
Dark blood in feces, or feces that are black or tarry
Trouble breathing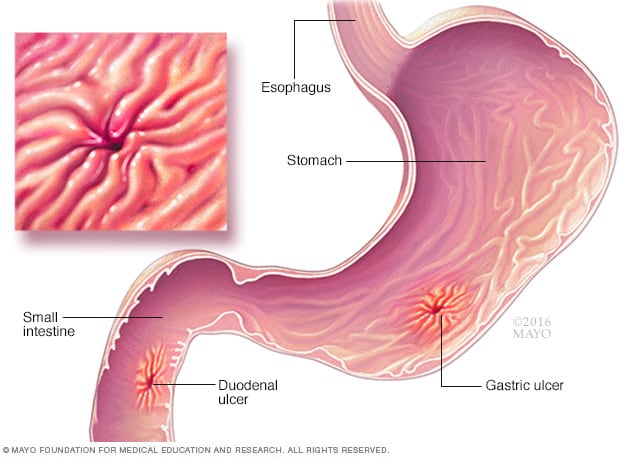 Even though discomfort may be mild, ulcer can worsen if they aren't treated any soon. If it's left untreated, peptic ulcer can result in internal bleeding, infection, to obstruction. Talk to your doctor if you have any symptoms listed above.


Treatment will vary depending on the cause of your ulcer. Most ulcers can be treated with a prescription from your doctor, but in rare cases, surgery may be required.


If your ulcer is the result of H. pylori, you'll need antibiotics and drugs called proton pump inhibitors (PPIs). PPIs block the stomach cells that produce acid. Symptoms of an ulcer may ease off quickly with treatment. But even if your symptoms disappear, you should continue to take any medication prescribed by your doctor. This is especially important with H. pylori infections, to make sure that all bacteria are eliminated.


If you have an actively bleeding ulcer, you'll likely be hospitalized for intensive treatment with endoscopy and IV ulcer medications. You may also require a blood transfusion.


You may reduce the risk of peptic ulcer if you commit to a healthful diet which composed with lots of fruits, vegetables, and fiber. Additionally, since people with peptic ulcer may have accompanying acid reflux disease, it's a good idea to stay away from spicy and sour foods while an ulcer is healing.
References: