26 April 2023 was a bustling day at idsMED Taiwan as it was filled with three important activities. The morning kicked off with an ACM session followed by an exciting team-building activity in the afternoon and closed with dinner for the team to unwind and celebrate their achievements.
An invigorating ACM session was held on the 16th floor of the idsMED Taiwan office building in Sanchong, New Taipei City. Jason Hsu, General Manager led the session with department heads joining him to share their strategies and plans for FY2024. The GM's opening address captured the attention of the entire company, and each department head presented their respective strategies, outlining specific plans and initiatives for the upcoming fiscal year. This companywide meeting fostered a shared understanding and unified commitment among the attendees working towards achieving the outlined goals and driving the company's success in FY2024.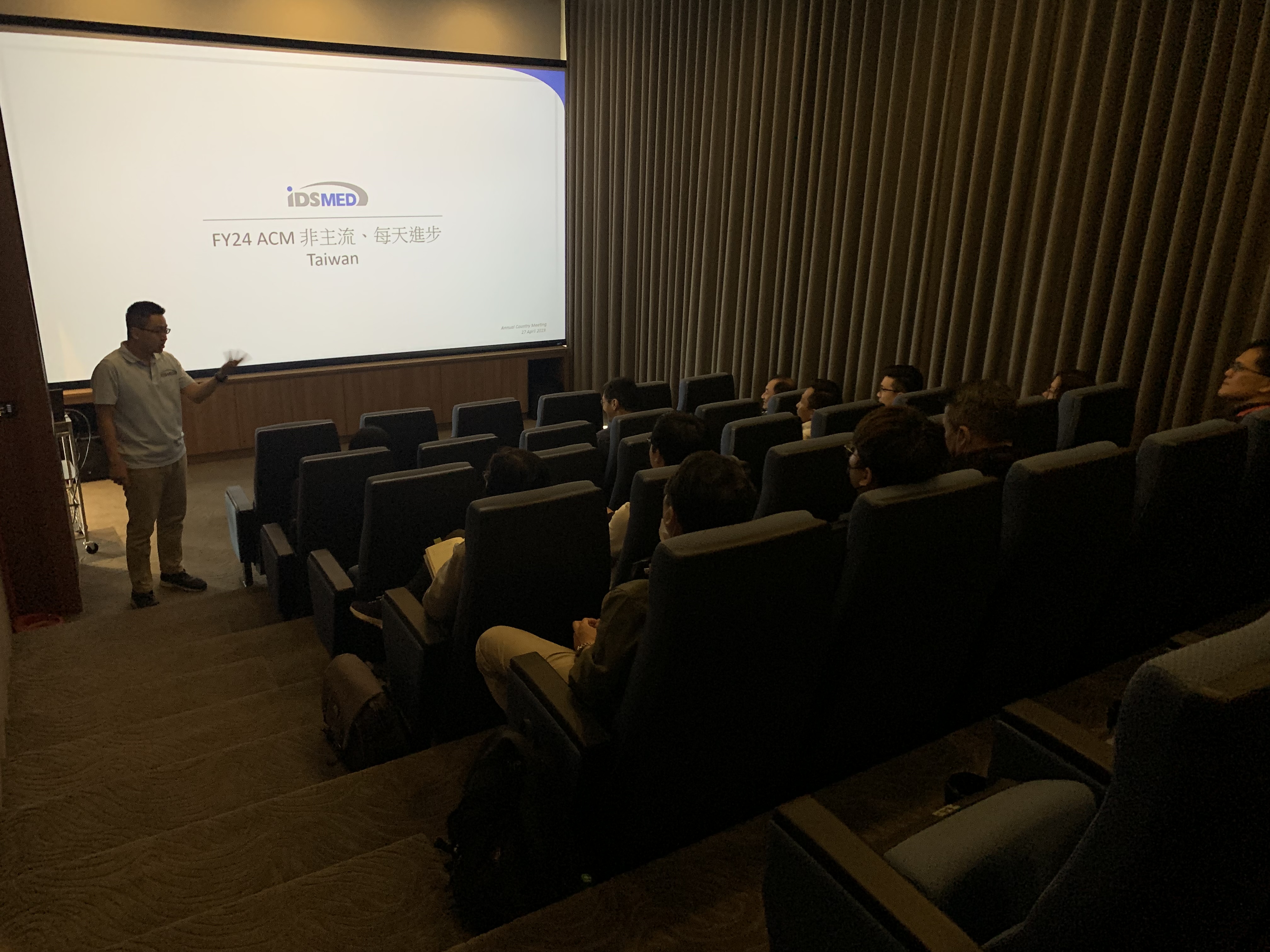 After the ACM session, the afternoon transitioned into a teambuilding activity at the New Taipei City Banqiao Civil Sports Center. Teambuilding activities come in various forms, and one engaging option was Kin-Ball, a unique and dynamic team sport that promotes cooperation, communication, and trust among its participants. The game required teams of five to work together to keep a large, colourful ball in the air from touching the ground within their designated playing area. Kin-ball emphasised the importance of effective communication, as players had to coordinate their movements and make quick decisions to handle the ball successfully. The game fostered a sense of unity and teamwork, as players relied on each other's support and collaboration to achieve victory. Through the energetic and inclusive nature of Kin-Ball, team members learned to trust one another, developed their coordination skills, and enhanced their ability to work cohesively as a team.

After a fun-filled teambuilding afternoon, the day concluded with a dinner at the Pengyuan Restaurant in Banqiao, New Taipei City. It began with an inspiring opening speech by Gerald Tan, idsMED Taiwan Regional Managing Director and EVP. His words not only uplifted everyone present but also provided valuable insights for self-improvement. Participants gathered in a relaxed social setting which allowed them to unwind, reflect on the day's activities, and strengthen personal connections. The evening created an opportunity for casual conversations, networking, and celebration among the participants.

Overall, this carefully curated schedule ensured a well-rounded and fulfilling day for all involved as they move forward to achieve the targets for FY2024.